Why is it important to join a local church family? God wants us to love real people,you may come from various background and experiences but do know that you are unique and you are God's master piece. The church is a gathering of God's unique master pieces, we gather to worship Him, to learn from one another and to help each other. Joining a local church is a good step. You become a Christian by committing yourself to Christ, but you become a church member by committing yourself to one another. We are not made to live our lives alone.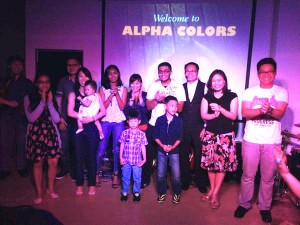 At Alpha Colors Church, we desire that our members are BLESSED, INSPIRED & ENCOURAGED. You may walk in with various troubles and challenges but together as a church, we always believe you can walk out Blessed,Inspired & Encouraged. Our sunday celebration services are designed for YOU. Come and join us, bring your friends and family,young or old, age is not a barrier in belonging to this family.
The Bible says this about the church, "They committed themselves to the teaching of the apostles, the life together, the common meal, and the prayers" (Acts 2:42 MSG).
Bless ya
Pastor Justin