Hello! friends, on the 19th of December our church hosted a community christmas event at Acapella Suite Hotel's amazing Sky Rainforest, a venue that overlooks the beautiful city of Shah Alam.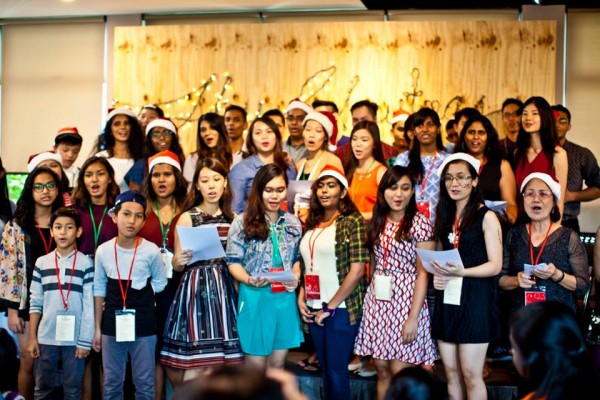 The dedicated team of volunteers planned and prepared for this event with the thought that 'now everyone can party', with Christmas for all people. Luke 2:10, "I bring you good news of great joy that will be for all people". We wanted everyone to host it as their own party for their own family & friends. We wanted every children to go home with a memorable experience and with a gift.
The place was set up beautifully by our own church volunteers & Acapella Suite Hotel, the upper 21st Sky Rainforest had a balloon forest and a fun place to bounce around with the inflatable and, kids and adults alike had so much fun with the bubble stations. The wonderful view made our guest busy taking pictures all over the rooftop which has nice sitting area too.
The game stalls were exciting, with volunteers working hard, face painting was fun with guest walking around happily, the stage was lighted with magic shows, our very own small groups performances, Alpha Colors Church very own talents rendering various christmas songs and the entire church choir singing a splendid christmas medley.
The children also had the chance to participate in a baking class, a good bonding time as they put their decorating skills on the gingerbread man. Both the volunteers and kids had a jolly good time at the baking workshop.
Love Bears which is a social concern group that provides free education/art to children had their stall set up displaying some very creative and unique art work and their custom made designs caught the eye of many and their efforts are for a great cause.
Our annual Christmas Care programme where we provide children in our community with financial aid to help them get ready for school next year took place and we had our  special invited guest, the ADUN of our area N40 Kota Anggerik, YB Tuan Dr Haji Yaakob bin Sapari to hand out the gifts.
Acapella Suite Hotel gave a fantastic, warm and friendly service to all our guest and made the event run smoothly with great service and most importantly good food.
Gifts galore at Sky Christmas and we hope that this Sky Christmas brought an exceeding joy to many people.  We sure did have an exceedingly joyful time!
We value friendships at ACC.
We are just humbled by the huge turn out on the day, the chance to be a blessing to people, to bring a smile to a face, to give generously and share is the spirit of Christmas, because GOD GAVE first, He gave HIS SON JESUS and that's what Christmas is all about. A heartfelt thank you to ALPHA COLORS CHURCH, you are the church and you made sure everyone can party!
The party continues at our Christmas Celebration Service on 25th December 2015 at 10.30am.
You are welcome to join us at Alpha Colors Church.

Bless ya!
Pastors Justin & Lai Keng