ACC organised a Family Holiday in Grand Kampar Hotel,Perak from 16th-18th September 2016. A Kingdom Family holiday was designed with lotsa fun activities,blended with faith,development and experience for our different age group participants.
Each participants were divided into 4 groups in which bonds were strengthens. The activities planned by the organising team was energetic.It helped them in conversing and to build relationships with one another.
From the Treasure hunt,badminton and Futsal competition, to the highlight of our holiday-ACC Talent Hollywood Night,each participants put in their energy,dedication,God's gifts and talents to make this holiday an unforgettable experiences.
Proverbs 17:22 " A cheerful heart is a good medicine but a crushed spirit dries up the bones". ACC Family might just be overdosed with the laughter medicine we got from the acting,singing and dancing performance from each groups. Often times we thought that God will only be with us in our sorrow time, but the truth is.. God is always with us.. in our Joy and in our sorrow. And we've learnt that in our midst of happiness and laughter, God is watching us and is happy for us too.
Oh..and not to mention! our participants enjoyed their meals here too. The food here at  GKH is amazing..Buffet breakfast,lunch and dinner. We practically have no time to feel hungry at all since there's always good food here. (This is honestly by far the best meal we ever had for church camp/holiday-LOL)

Cozy night with  acoustic worship band and the bohemian setting in our hall,everyone were able to soak in the presence of God and hear the message of how God loves us and its important to love yourself first before being able to truly love others. And that simple fact makes all the difference.
We've also enjoyed our second session from Ps Justin "Your battle is the Lord's". in which we've learnt that Faith demands that we turn over all our problems,critical situations,fears and anxieties into the hand of the Lord. And holding fast to that faith by trusting God and resting on His promises and rejecting all the lies of satan.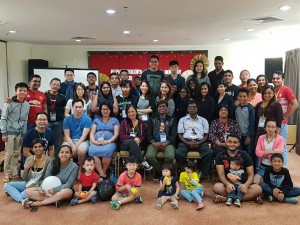 We would like to thank everyone for their time and effort in coming together as a family, creating an amazing unforgettable experience for Alpha Colors! And we simply could not have done it without you!
Looking forward for our next holiday together!
God bless,
ACC Kingdom Family Holiday Team!