The treasure of the church is people who follow Jesus lifestyle, and without abiding in Jesus we can't possibly live that life.
John 15:5 (NLT) "Yes, I am the vine; you are the branches. Those who remain in me, and I in them, will produce much fruit. For apart from me you can do nothing. 
We are to be firmly planted in our local church, a plant in a moving pot cannot be compared to a permanent deep rooted plant. Deep roots ensures that when winds and storms comes our way, it remains strong. A church is a place where God is able to strengthen us with His spirit, His Word and the gathering of fellow believers.
Can you see the difference between the palms in the pot and the ones planted on the ground? Both were planted at about the same time. One is taller and bigger.During rainy seasons that comes with a strong wind,one falls away but the other doesn't because it is strongly rooted to the ground.
Psalms 92:13-14
13 Those who are planted in the house of the Lord Shall flourish in the courts of our God. 14 They shall still bear fruit in old age;They shall be fresh and flourishing,
We are to TRUST GOD all the way, even in most difficult times i keep singing the praises, even when i feel demotivated i keep singing, even when i don't understand, i keep believing, even when my heart is hardened like a stone, i keep drag my heart towards Jesus. Because the bible says God is able to draw praises from trees and stones, but HE desires us more than anything else.We are favoured not cursed.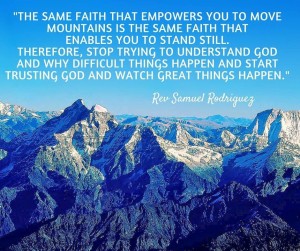 Jeremiah 17:7-8New Living Translation (NLT)
7 "But blessed are those who trust in the Lord and have made the Lord their hope and confidence.
8 They are like trees planted along a riverbank, with roots that reach deep into the water.
Let's be the church that God has called us to be, together we can as we uphold one another. Do not take coming to church lightly, because it is the place of dwelling. In Ezekiel the bible says the water that flows from the temple grants food and healing, a dwelling place of shelter for all people.
Ezekiel 47:12New Living Translation (NLT)
12 Fruit trees of all kinds will grow along both sides of the river. The leaves of these trees will never turn brown and fall, and there will always be fruit on their branches. There will be a new crop every month, for they are watered by the river flowing from the Temple. The fruit will be for food and the leaves for healing."
As we approach Christmas season, let's not forget the simple truth " JESUS LOVES YOU", we may have heard it a thousand times but today  as we sing in church  "MAY WE NEVER LOSE OUR WONDER" ,i pray the wonder of GOD loving you through Jesus Christ remains in you.
ABIDE
Pastor Justin